5 Spring Candle Scents to Freshen Your Home
The best spring candles bring the excitement, anticipation, and brightness of the outdoor season indoors. Spring scents can help improve your mood and energy levels after a season of proverbial hibernation. So get ready to kiss those cold and dark winter months goodbye.
As new life emerges outside—hello, baby blooms!—consider adding these candle scents to your home to celebrate the renewal, growth, and new beginnings that spring brings.
Here are 5 of the best spring candle scents to freshen your home.
Bring Spring Indoors with These 5 Spring Candle Scents
1. Elderflower
Elderflowers bloom from elderberry fruit trees in the late spring and have a delicate and sweet scent.
Its aroma resembles other fragrant flowers, like jasmine or lilac, but with a distinct musky undertone. Perfumers incorporate the elderflower notes in perfumes, candles, and other scented products to add a fresh and floral touch—perfect for spring!
Consider this playful, floral fusion of elderflower, mimosa petals, and white woods for your next spring candle, aptly named Spring Reset.
2. Jasmine
Jasmine is another popular spring scent known for its sweet, floral fragrance. But if you're thinking 'not another sweet floral for spring,' here's the difference.
Both jasmine and elderflower have a floral scent, but the floral notes in jasmine are more intense. Jasmine has a sweet, heady floral scent that's described as exotic and seductive. It's often associated with love and romance, making it a popular scent for spring wedding bouquets.
On the other hand, elderflower has a delicate floral scent that is sweeter (thanks to its respective fruit) and more honeyed.
Talk about the range of spring scents! There's something for everyone.
3. Bergamot
Bergamot is a citrus fruit, and citrus scents are a great way to add a fresh, invigorating aroma to your home or personal space in the spring.
But why bergamot and not another citrus, like orange?
Both bergamot and orange have a citrusy scent, but the citrus notes in bergamot are more complex than those in orange.
Bergamot has a brighter, more intense citrus scent and offers floral undertones with a spicy and slightly bitter edge. This nuance gives bergamot an advantage, particularly when considering it as a high-quality, complex scent in candles for spring.
Bergamot is a fragrant and versatile citrus scent used in aromatherapy to reduce stress and anxiety, promote relaxation, and improve mood.
Consider this unique blend of bergamot and sage for your next spring candle.
4. Lavender
Lavender is a classic spring scent that evokes calm and tranquility. Hello, peaceful home. Its soothing aroma is a popular choice in aromatherapy for relaxation and stress relief.
Lavender has a light, fresh, and clean scent profile that is perfect for spring. Plus, lavender is a natural insect repellent that can help keep mosquitoes and flies away when they come out in greater numbers.
You're not the only one ready to enjoy spring!
So keep the bugs away, and your spirits light with a lavender scent in the spring.
5. Rose
Rose is the quintessential spring scent. This timeless flower has a rich, heady fragrance. Think romance and sophistication.
Its aroma is often associated with love and beauty, making it popular for scented candles year-round, especially in the spring.
Roses bloom in spring, making this scent a natural symbol of renewal and new beginnings.
Consider this dreamy lavender and rose-scented candle as your next spring candle.
Frequently Asked Questions about the Best Candle Scents for Spring
What should spring smell like?
The best spring scents are light, fresh, and lively. Think earthy scents, like rain or cut grass—or florals and citrus scents, like jasmine or bergamot.
The spring season is most associated with scents that evoke feelings of renewal, growth, and new beginnings. So if a scent makes you feel refreshed, it's perfect for spring!
What are the best seasons for scented candles?
Scented candles are highly giftable, and their peak gifting seasons are during the winter holidays, but scented candles are perfect for all seasons. Clean fragrances can mimic any season and transport our minds to a special place in time, like spring, any time of the year.
Best Scented Candles for Spring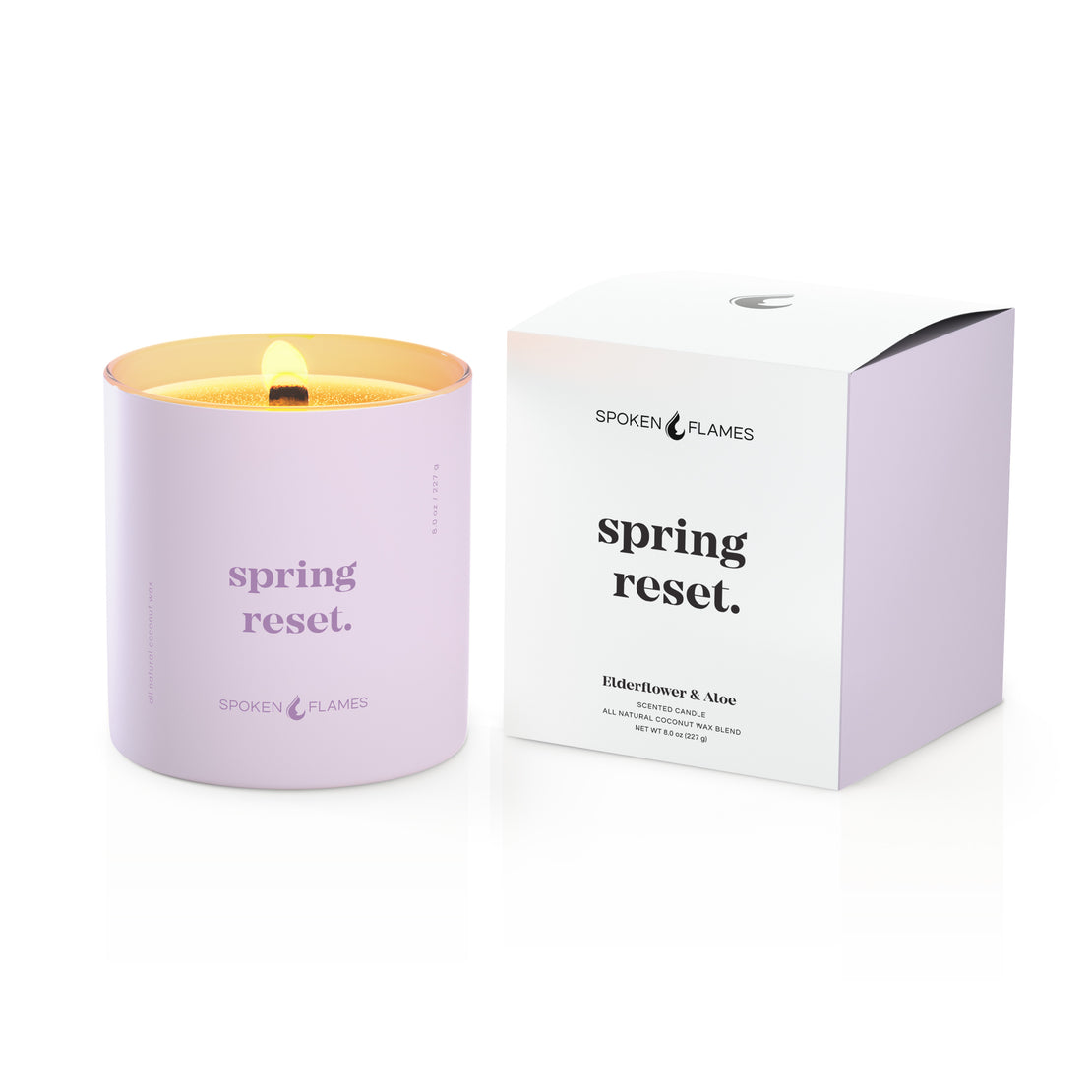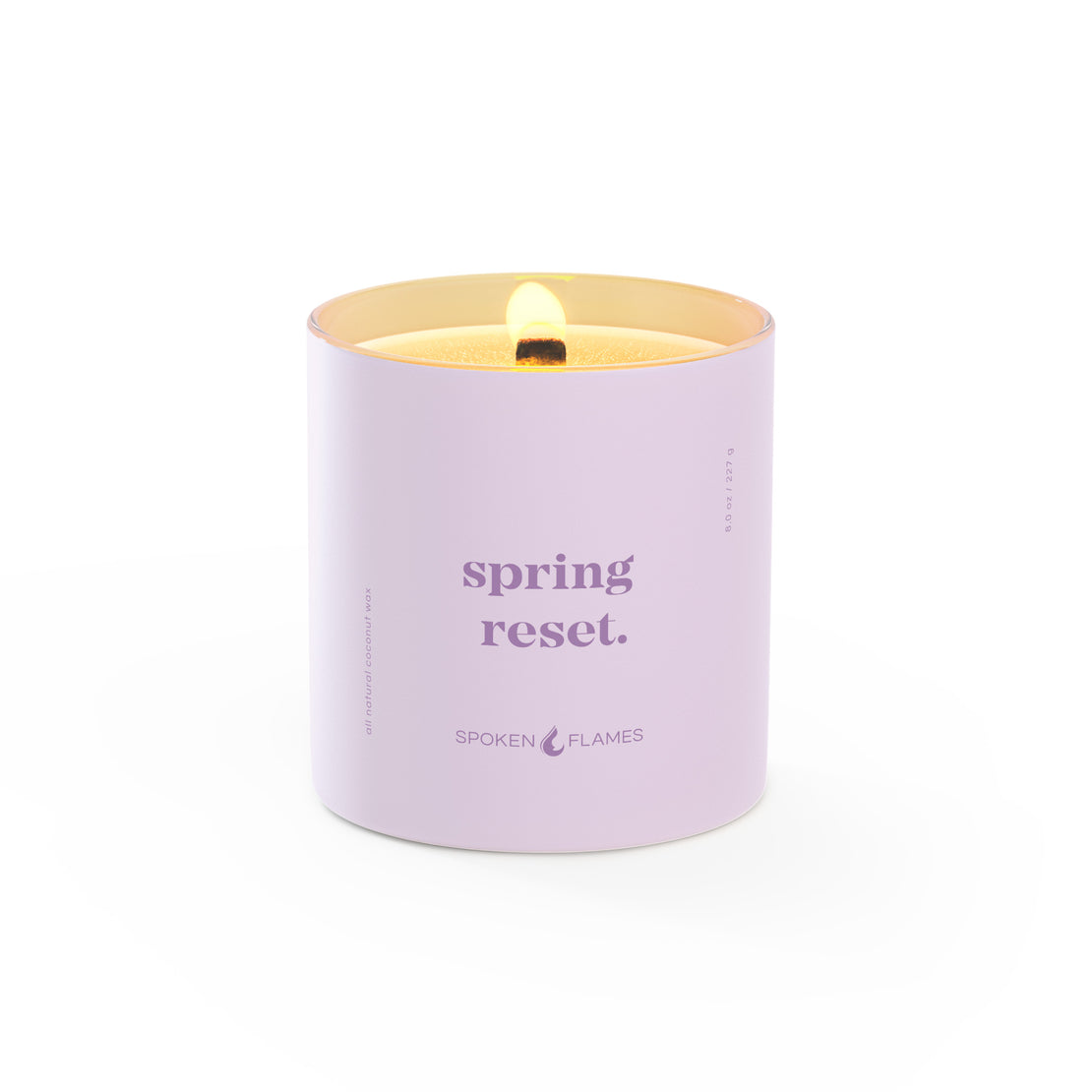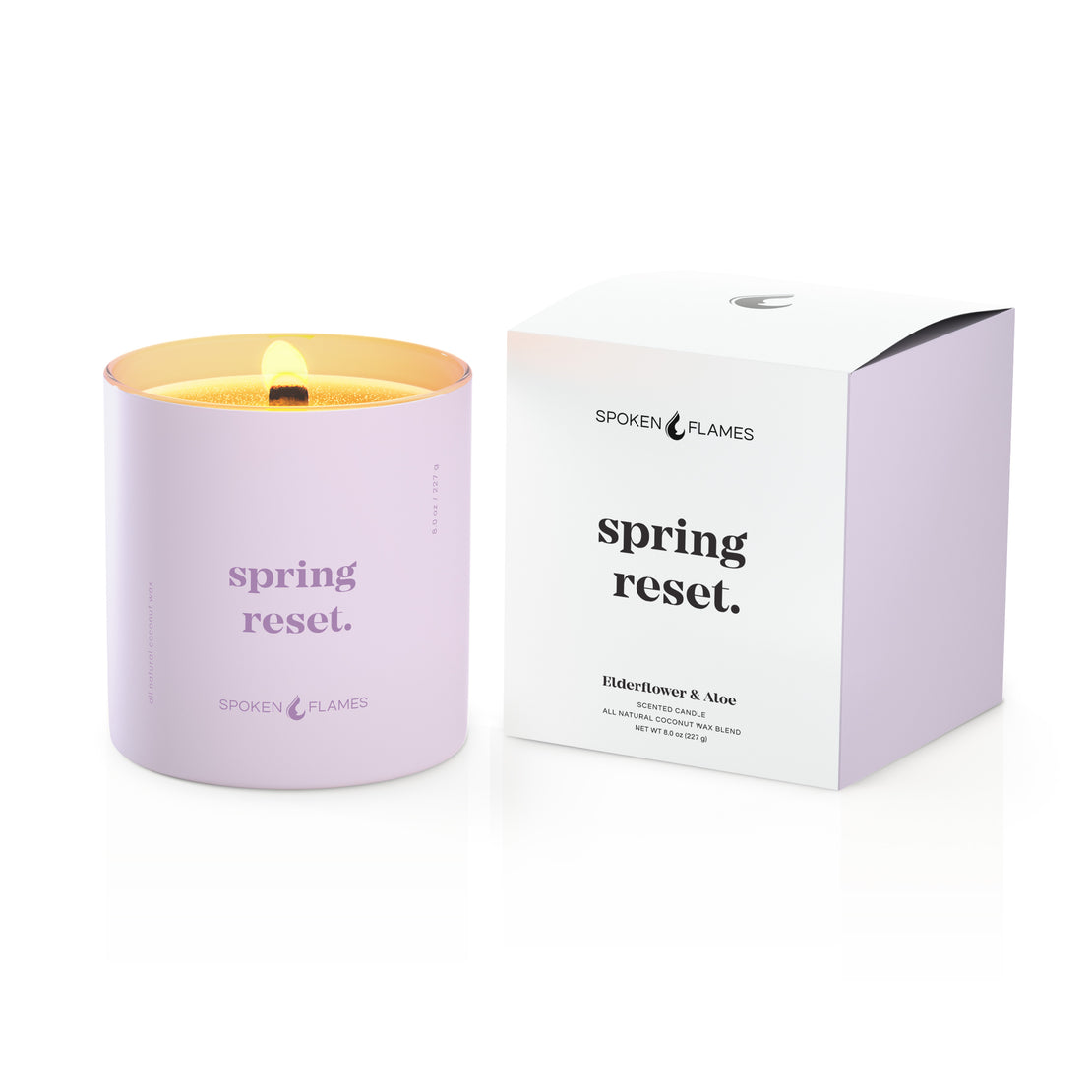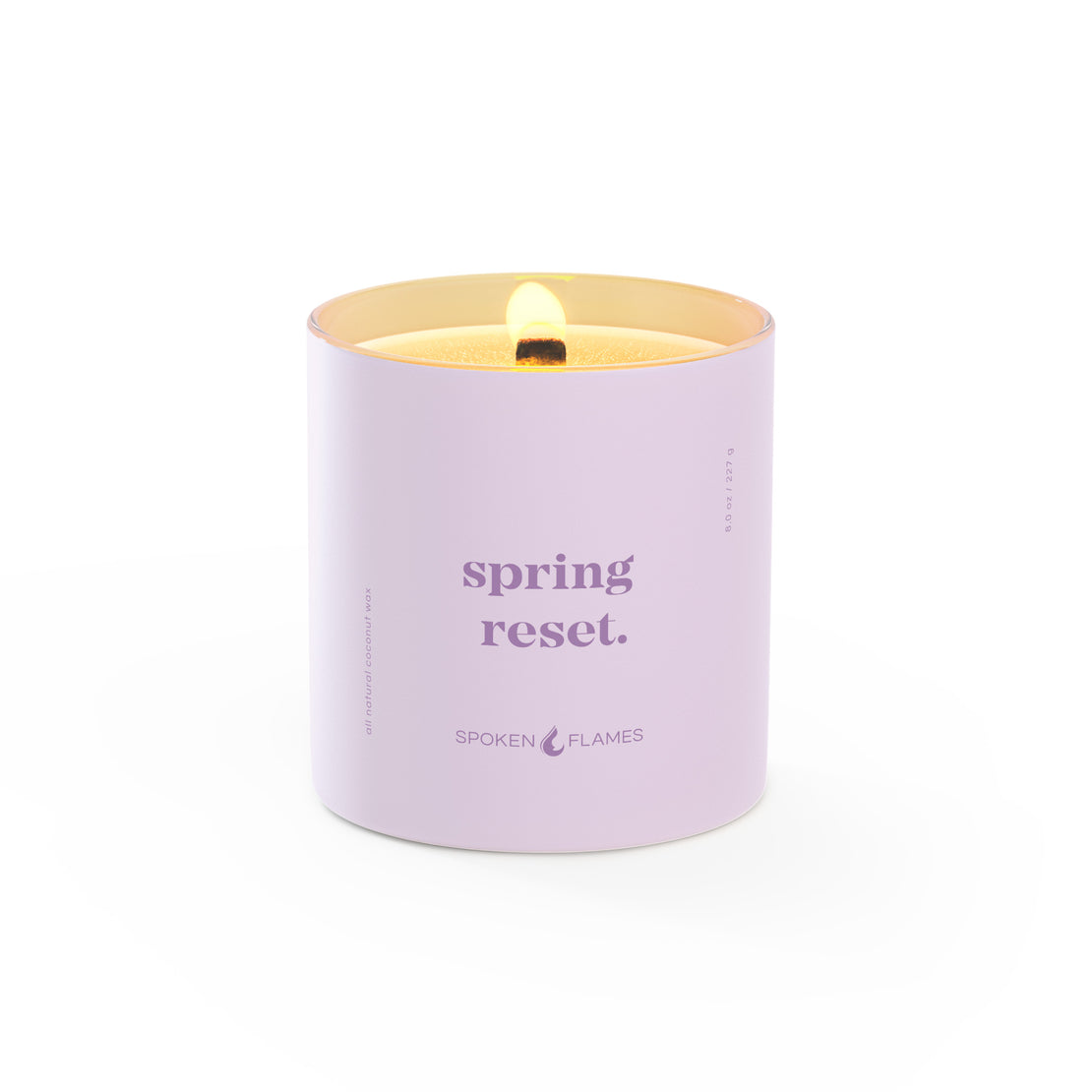 Elderflower, aloe, mimosa petals
Learn more
Soft jasmine, rose, geranium
Learn more
Join over 5,000 readers!
Was this helpful? Then join over 5,000 readers who receive valuable wellness, motivation, and lifestyle content just like this. Plus, get $5 towards your first Spoken Flames candle.