Summer Self Care: 5 Routines When You're Short on Time
This candle gift set may be your solution.
Your summer self care routine might differ (or, worse, disappear) in warmer months. Why is this?

Well, sunnier and more social summer days can really dial up your FOMO (fear of missing out). From the concert to the cookout to the beach, it can feel like you're always on the 'go.'

Living your best life, for sure!

It's natural to have less time for self care in the summer. Our days are literally shorter, so don't feel guilty.

Instead, try what we call "micro routines." These are low-maintenance rituals that maximize your mindfulness on busy summer days.

Many of these micro routines will blend into the summer activities you're already doing!

Here are five summer self care ideas to consider before your next summer outing.
PERSONAL OR CORPORATE GIFTING
Here's 5 reasons why a candle gift set makes the perfect gift:
Summer Self Care: 5 Mindful Micro Routines
1. Be Still and Drink Water
A summer day offers plenty of opportunities to be out and about. So before you get on the go, simply be still.

Sit upright in a comfortable position, preferably in a quiet space. Drink your water slowly and aim to be without thought.

Consider this an active meditation.

Increasing your water intake is vital to regulate your body temperate in the hot summer months. So this micro routine will give your body what it will need to function and give your mind a space to be still before the buzz of summer begins for the day.
2. Activate Summer Scents
Science confirms that scent has a powerful influence on our mood. In our conversation with Town & Country Magazine, we shared that "scent impacts how we experience our space." So in the spirit of summer self care, light a scented candle that smells like summer!

Allow summer scents to fill your space and get your mind (and mood) summer ready.

The scent can be the fragrant backdrop to your shower, workday, or any of the summer self care routines suggested in this article.
SHOP SUMMER SCENTS
🎁 SHOP TRIO SETS 🎁
3. Consciously Apply Your SPF
Emphasis on 'consciously.'

Applying SPF can feel like a mundane task. But think about it, this is a time you get to be with yourself and your skin. Don't take this moment of peace for granted.

Take your time and ease the sunscreen onto your skin. Give yourself a mini massage in any area where you notice you feel tight or tense.

This micro routine turns a typical summer task into a mindful exercise that counts as self care in the summer!
🏃 I'M READY TO GIFT - LET'S GO! 🏃
4. Visualize Your Day Near an Open Window
Get your dose of Vitamin D before you even step outside. Sit near an open window, open the blinds, and hear or see the sounds and sights of the current moment.

Ground your senses in the present, then invite your mind to visualize the goodness ahead for your day.

Whose smile will you see? Whose hug will you embrace?

This mindful exercise engages your mind and senses and encourages a feeling of hope that you can take with you throughout your day.
5. Draw Your Intention
In the summer, we draw! But here's a secret: we're awful at drawing.

So the point of this micro routine is to express your thoughts in a new, more liberating mode.

Like a summer breeze, we go with the flow.

Pen to paper, and we take the pen wherever our hand feels compelled to go. No judgment. No subject in particular that we're drawing.

We're just practicing being in the moment and embracing the unknown. Let your intention for the day inspire the pace and path of your pen. You can do this at the beach (in the sand), in a park, or at home.
Summer Self Care Without Sacrificing Your Summer Plans
Self care in the summer can fit right into anyone's busy social calendar. It's all about creating mindful moments where you least expect it!

Of course, the more you fill your proverbial cup, the more you have to give to others this summer. So make the most of your summer days, and let us know which micro routine(s) you'll try before your next summer adventure!

We hope these summer self care ideas inspire you this season. 🌞
6. Candles can help increase focus in a work from home environment
The rise in WFH and remote work means our workspaces are full of comforts—and distractions. But why would anyone light a candle at their work desk? To keep those distractions at bay. From chatty co-workers (albeit via Slack) to social media, candles are a thoughtful corporate gift that can help us focus and create space for us to do our best work.

Consider it a productivity hack. 💡

The presence of a candle flame can set a calming mood. Wooden wick candles in particular have a unique soft-crackling sound, which can serve as natural and relaxing ambient sound in one's space. Plus, select scent profiles, like citrus, woody or a floral scent of a scented candle can influence physiological responses that help keep the mind on track.

7. Candles can be an environmentally responsible gift choice
First, it's a candle, next it's their favorite whiskey glass. 🥃

Depending on the candle's vessel, most candle jars can be upcycled after the burn cycle of the candle. It can be used as storage, glassware and more, so you can feel good knowing that your gift will keep on giving! And your candle gift (once upcycled) can be a pleasant reminder, if not a conversation piece in their home, of your thoughtfulness.

A candle gift set solves my gifting needs—but wait! I don't know what candle scent they may like 😟

Bonus tip: How to pick a candle scent for a gift
So a candle gift set meets your needs, but you're not sure what scents they like 😟 Pro tip: consider an unscented candle or a gift set that offers a variety of scents.

The unique thing about Spoken Flames' Trio Sets is that each candle gift set has a variety of scents with great range—from woody, citrus and floral in our F, Yes Collection, for example.

Your gift recipient would never get bored, and it increases your chances for satisfaction with a broad range of scents in their hands.

Because Spoken Flames candles are message-driven, our motivating candle statements (even without scent) mean that you'll still win big with this meaningful gifting choice!
Best Candle Scents for Summer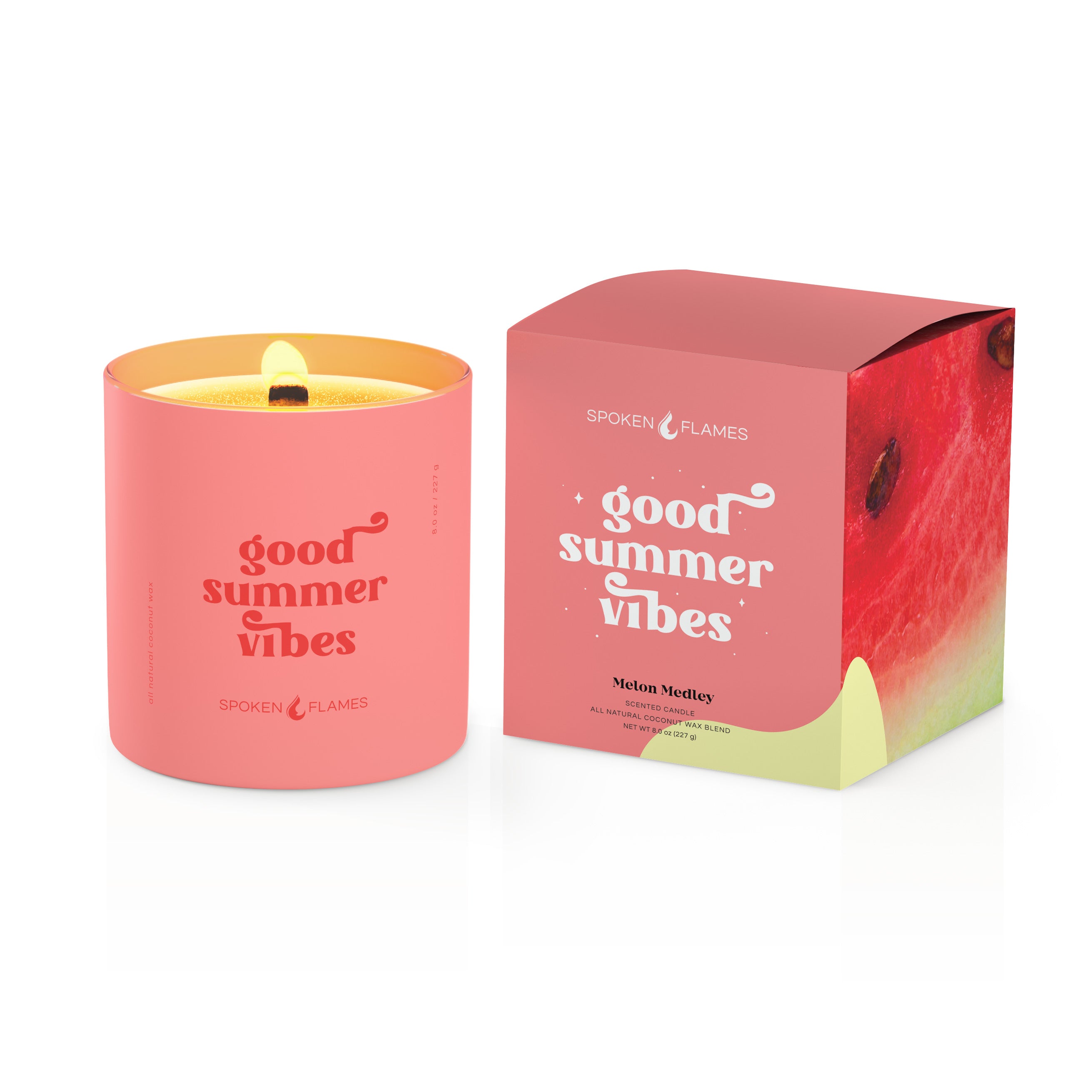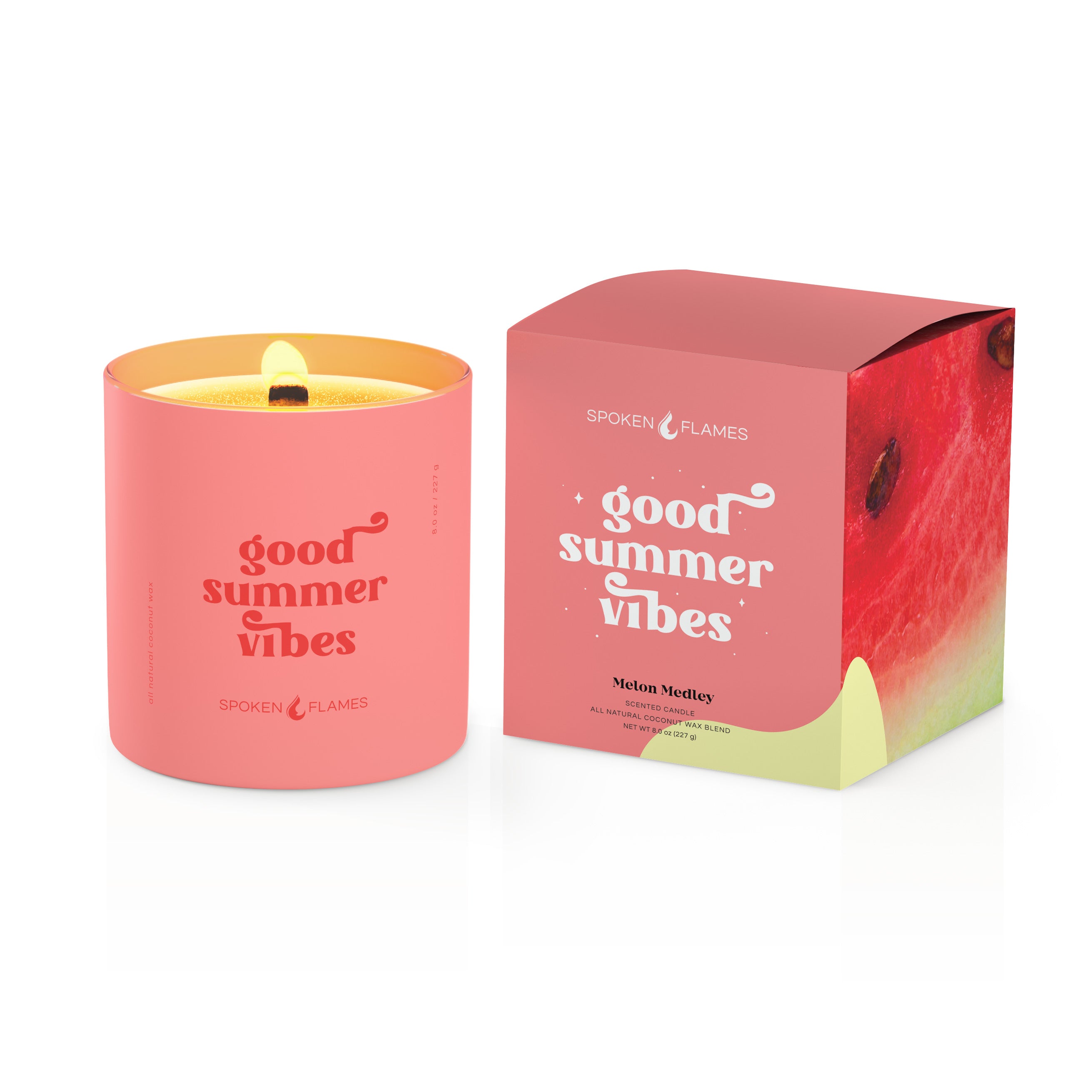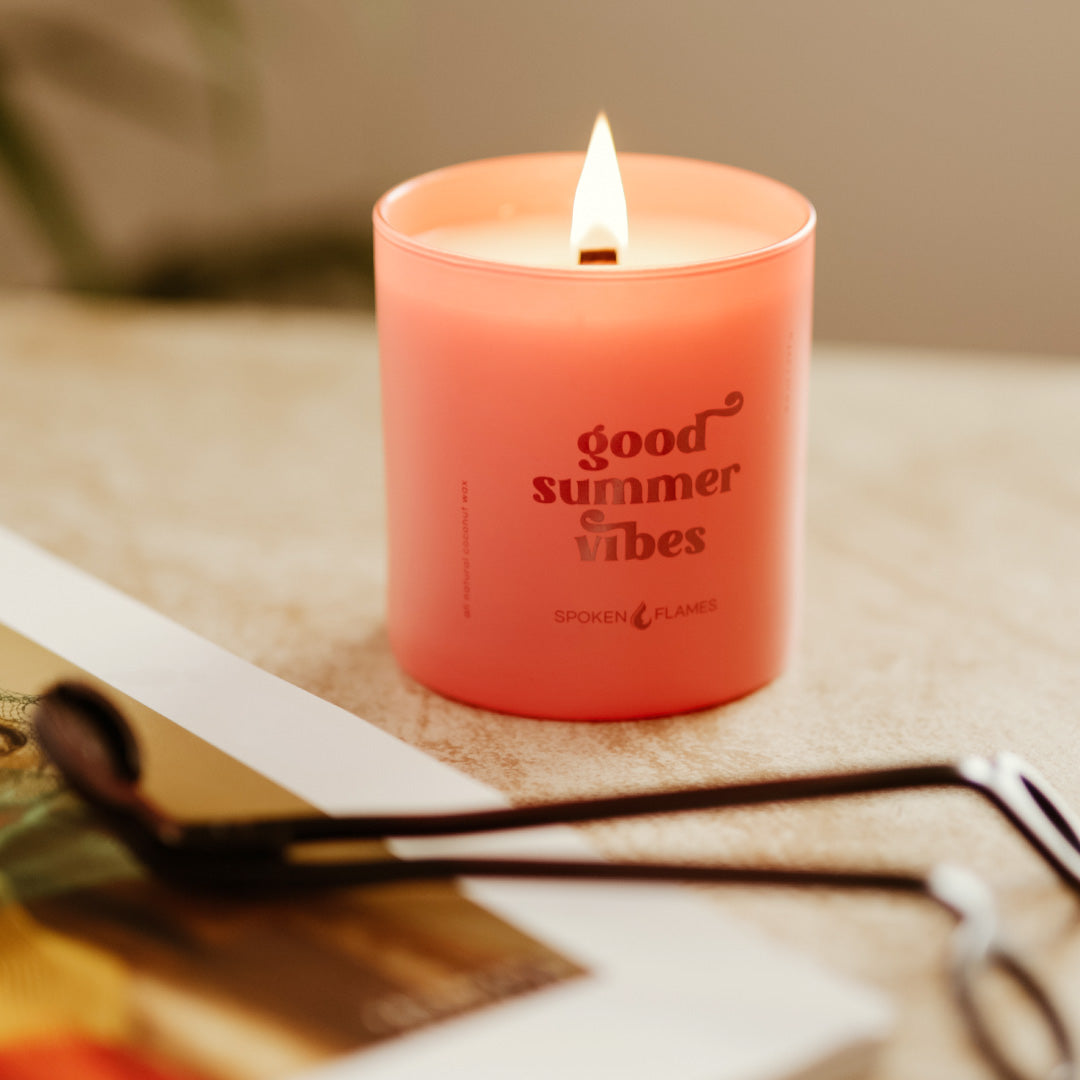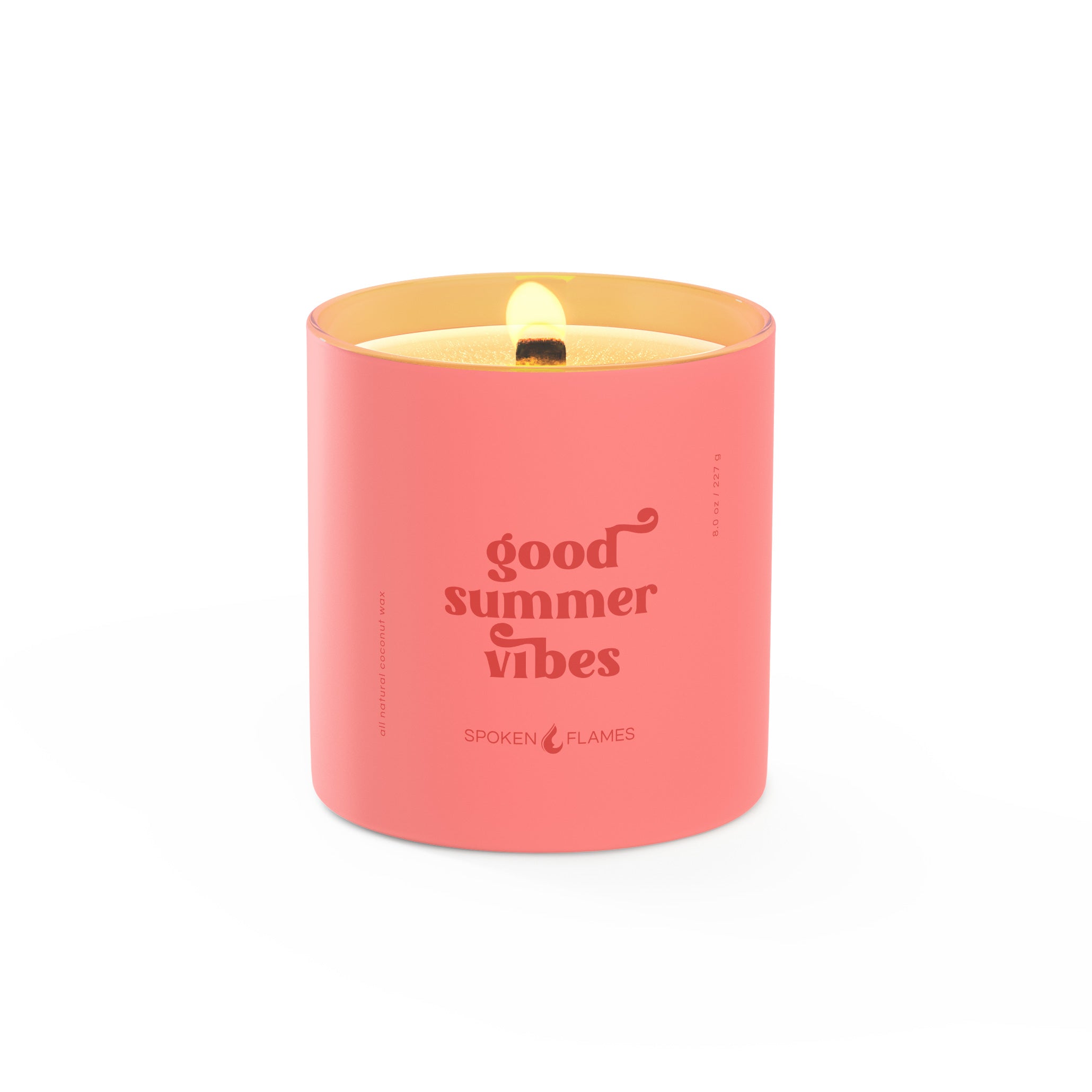 Watermelon, cantaloupe, honeydew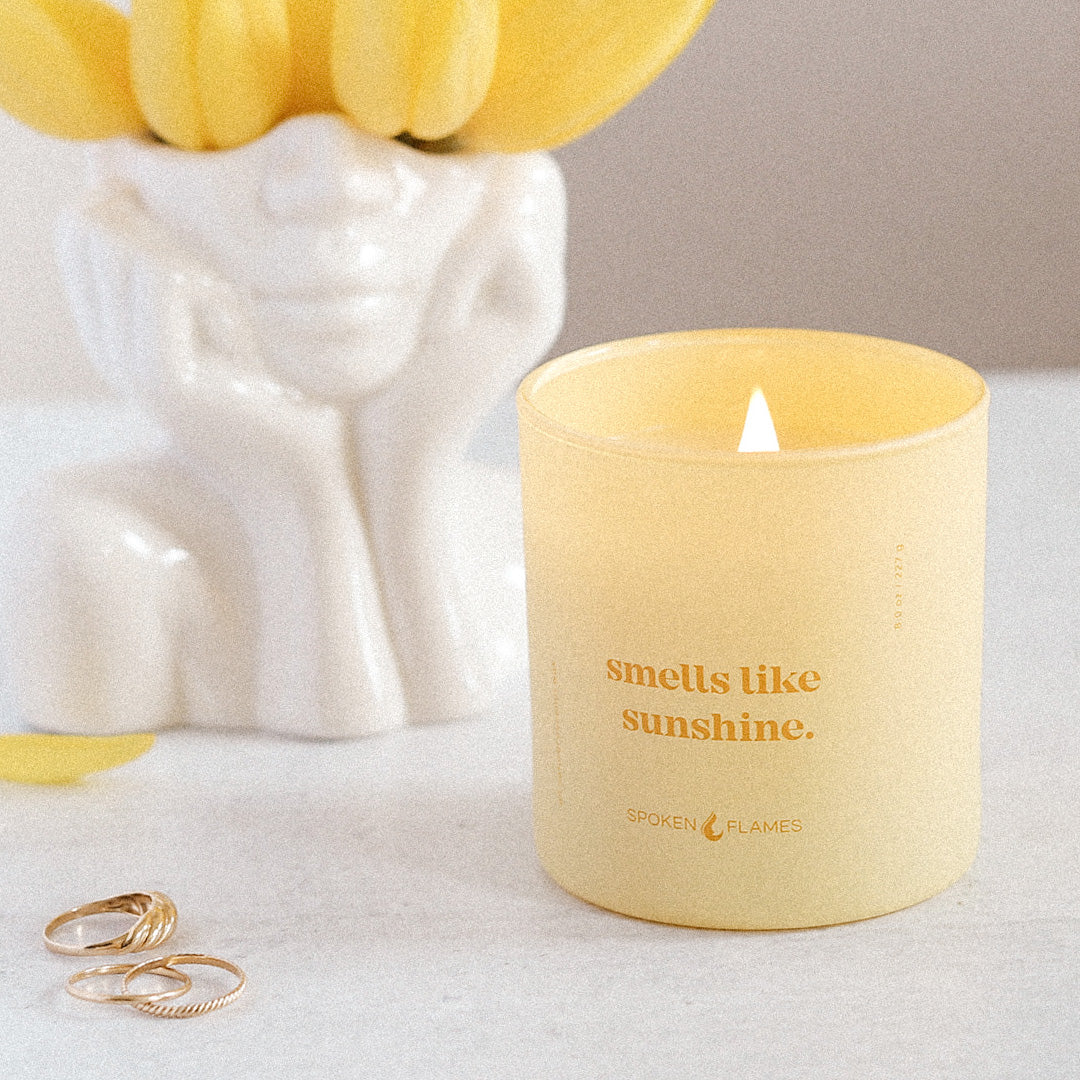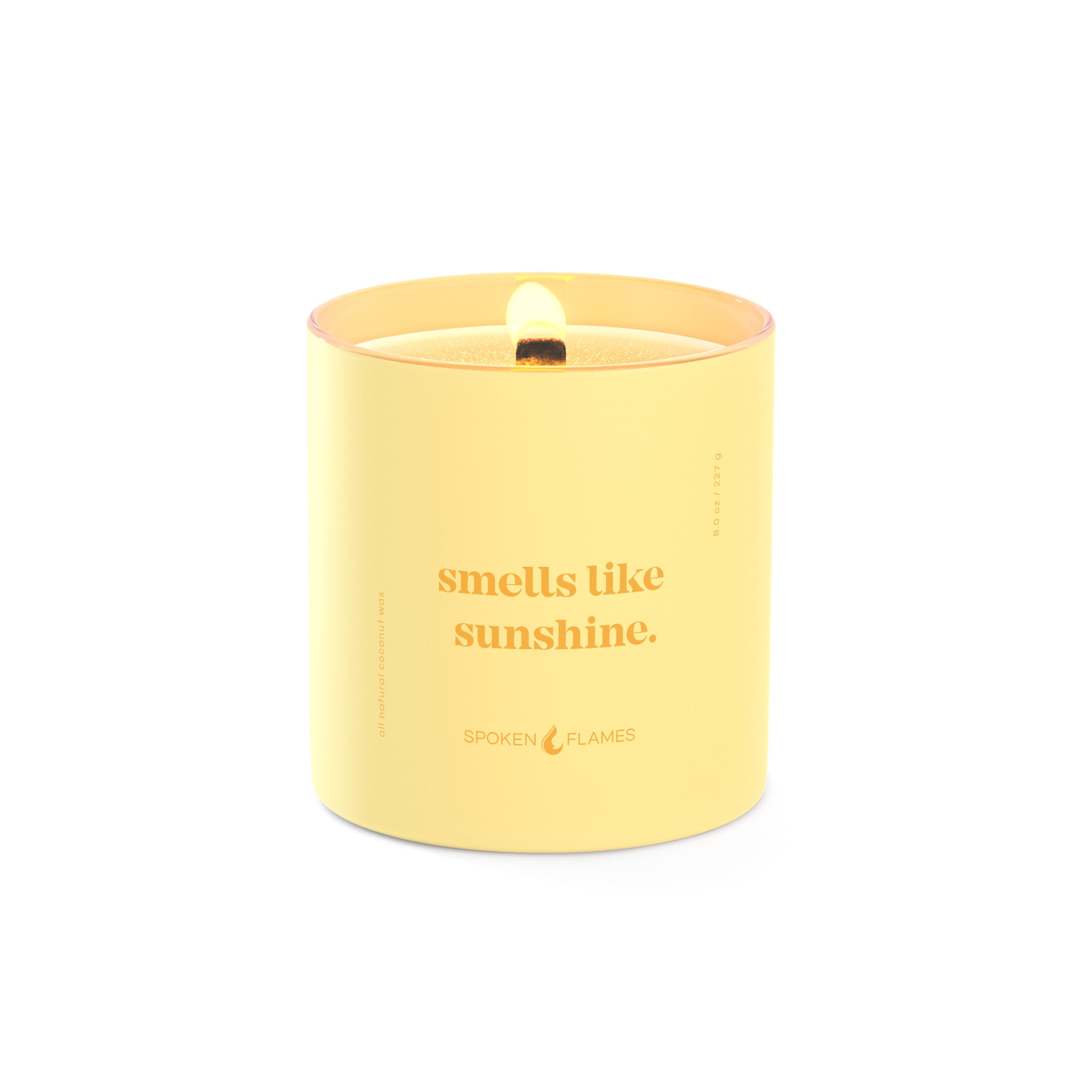 Golden apple, peach, wild berries