LIGHT IT INTO EXISTENCE TM
7 Insights & Trends for Corporate Gifts for Employees in 2023
What's the most effective and arguably overlooked way to promote positivity and productivity in the workplace? Gifts.

Corporate gifts can help boost employee morale and your business' bottom line, with tax incentives often associated with this generous act and proven benefits to increasing employee performance and retention.

Data shows that corporate gifting can increase job satisfaction, loyalty, and productivity. In addition, corporate gifting is a great way to show appreciation among teams, offices, and clients.

But with so many employees and clients, often located around the world, with diverse tastes and personal preferences, corporate gifting can seem complicated, or worse: a logistical nightmare. 😰

You might wonder: are candles a good gift for employees? Do my employees like cookies or brownies—or are they allergic? How can I send multiple gifts to multiple addresses?

At Spoken Flames, a premier candle brand named 'Best Candle Gift to Give' by Architectural Digest, we've helped Fortune 100 companies and small businesses through the logistics of their corporate gift campaigns for employees and clients worldwide. As a result, we know what works and what doesn't when it comes to corporate gifting.

So whether it's a corporate holiday gift set for a client or gifts for employee appreciation, here are the top 7 data points, insights, and trends you need to know for corporate gifts for employees in 2023.
PERSONAL OR CORPORATE GIFTING
Here's 5 reasons why a candle gift set makes the perfect gift:
1. Data supports the effectiveness of corporate gifts
Corporate gifts for employees and clients are more than just a nicety. Giving a gift to employees can effectively increase your bottom line. Here's the data that reflects how:
Increases productivity
With some of the highest employee turnover rates in recent history (quiet quitting, anyone?), thoughtful corporate gifts can improve job satisfaction, loyalty, and productivity. In addition, non-monetary motivations, like gifts, were reported to have increased worker productivity by +14%.
Improves relationships
According to Forbes, about 80% of corporate gift buyers stated that gifts improved relationships with clients and employees. Such thoughtfulness reinforces the team spirit and, in turn, fosters a sense of pride in their roles.
Boosts morale
As reported by Sendoso, 57% of employees stated that receiving gifts by mail makes them feel more valued. Sending gifts directly by mail gifts can also make corporate gifting feel more personal and exciting.
2. The benefits of corporate gifting are two-fold
Employees feel more appreciated and committed to their role within your company. And company leadership benefits from an engaged workforce. It's a feel-good win for everyone.

Tax advantages of corporate gifts for employees
According to US tax laws, gifts of up to $25 per person are tax deductible each year. So if you shop with purpose and intention, you can still manage a gift of appreciation for your employees without breaking the bank.

Though there is a limit on the amount per tax-deductible gift, there is value in going beyond the tax-deductible limit, as we'll explain more below.
🎁 SHOP TRIO SETS 🎁
Corporate Gift Ideas for 2023: Here's What's Trending
The two best options for ensuring your corporate gifts are the perfect blend of thoughtful and practical are ordering from a bespoke gifting platform or finding a unique small business to work with directly. Here's why:
3. Reduce waste and simplify corporate gifting with gifting platforms
Gifting platforms like Loop & Tie offer both curated and build-your-own collections of gifts, with price tags to suit your budget and customizable branding options to add your corporate stamp.

Loop & Tie will fulfill each gift for you, simplifying the gifting process and making your job much easier. Spoken Flames is also available on Loop & Tie, so be sure to add our candles to your corporate gift bundle!
🏃 I'M READY TO GIFT - LET'S GO! 🏃
4. Exercise the power of your corporate dollars: Shop from a small business
Small businesses specialize in thoughtful, niche items that can be personalized. By spending a bit of time incorporating employee names or thinking about individual passions and hobbies, your effort will go a long way – all while supporting a small, independent business.

Remember, it's the thought that counts, and this is a simple way for your thoughtfulness to shine through.

Working directly with a small artisan business, like Spoken Flames candles, is a great option for you to send unique, inspired corporate gifts for employees.
RELATED: Curate a custom candle gift box. Here's 7 gifts that go well with a candle ›
5. Consider these consumer trends for corporate gift ideas in 2023
Several consumer reports from WGSN, the world's leading consumer trend forecaster, reveal the following holiday and corporate gifting trends in 2023.

We can take these cues of what your employees are both searching for and are spending their own money on to help inform the type of corporate gifts you should get for your employees.
Handmade and one-of-a-kind gifts
After the DIY boom of the pandemic, people are still leaning toward handmade gifts. Google searches for "handmade gifts" have increased, and the cost-of-living crisis is forcing people to appreciate better-quality and more sustainable gifts.

RELATED: Upcycle any Spoken Flames candle glass for storage, drinkware, and more. Here's how ›
'More meaning and less waste' is the overarching insight. People want meaningful things and keepsake products.

This insight leads us to our next trend.
Sustainable Corporate Gifts: Practicality is Key
Trend reports show that consumers don't want to receive gifts that will end up in a landfill – they want gifts that will be used and cherished.

Employers are already picking up on this trend, as Google searches for "sustainable corporate gifts" are up 200% YoY.

Loop & Tie is a corporate gifting platform that lets employees and clients choose gifts from a selection of products, including Spoken Flames candles, LARQ water bottles, tech gear, and even yoga subscriptions.

No more guessing what corporate gifts employees will like. Instead, empower your employees to pick their gifts and reduce waste—and increase employee satisfaction in the process.
Feel Good, Smell Good Gifting
A study by Cornell University found that 'doing' makes people happier than 'having,' and that consumers feel more grateful for experiential items rather than material ones.

Does this mean first-class round-trip tickets to anywhere in the world (plus a $10K stipend), like Spanx did for their employees?

Not necessarily.

You can get creative and make sure what you're gifting offers more than meets the eye.

This is where we see the relevance of fragrance trends.

"Wellness focused scents are a key gifting opportunity," says WGSN Wellness Gifting Report.

In the US, fragrance sales spiked nearly 50% in 2021, experiencing more growth than any other beauty category.

Consumer reports show that people "no longer view fragrance as a rare luxury and instead look to scent for micro-moments of escapism and comfort."

Alongside a wellness boom, as the pandemic re-prioritized health and wellness, consumers have reassessed fragrance's ability to contribute to well-being.

CB Insights also reported that consumer interest in aromatherapy and at-home scents have reached an all-time high.

But rather than gifting an ordinary scented candle and calling it a day, your corporate gifting should look beyond ordinary.

A sensory candle experience fits this trend.

Fragrance, check. Shimmering golden wax and wooden wicks that crackle like a tiny campfire? Check and check.

RELATED: "It's something more than a candle; it's an experience," says one Spoken Flames customer. Learn more ›
6. Choose a universal gift—with a twist
Candles are among the most common and universal gift items that span the self-care, home décor, and home fragrance categories.

Spoken Flames elevates the candle experience to the next level with a range of shimmering wax blends, dual wooden wicks, and custom scents created from curated phthalate-free fragrance oils with unique, essential oil blends.

All Spoken Flames candles are handmade and hand-poured in small batches for ultimate quality control.

But more than that, Spoken Flames sensory candles have a message that comes to life using AR technology. It soothes, crackles, shimmers, and speaks. This is not just a candle. It's a sensory experience that encourages mindfulness and overall wellness.
In Summary
6. Candles can help increase focus in a work from home environment
The rise in WFH and remote work means our workspaces are full of comforts—and distractions. But why would anyone light a candle at their work desk? To keep those distractions at bay. From chatty co-workers (albeit via Slack) to social media, candles are a thoughtful corporate gift that can help us focus and create space for us to do our best work.

Consider it a productivity hack. 💡

The presence of a candle flame can set a calming mood. Wooden wick candles in particular have a unique soft-crackling sound, which can serve as natural and relaxing ambient sound in one's space. Plus, select scent profiles, like citrus, woody or a floral scent of a scented candle can influence physiological responses that help keep the mind on track.

7. Candles can be an environmentally responsible gift choice
First, it's a candle, next it's their favorite whiskey glass. 🥃

Depending on the candle's vessel, most candle jars can be upcycled after the burn cycle of the candle. It can be used as storage, glassware and more, so you can feel good knowing that your gift will keep on giving! And your candle gift (once upcycled) can be a pleasant reminder, if not a conversation piece in their home, of your thoughtfulness.

A candle gift set solves my gifting needs—but wait! I don't know what candle scent they may like 😟

Bonus tip: How to pick a candle scent for a gift
So a candle gift set meets your needs, but you're not sure what scents they like 😟 Pro tip: consider an unscented candle or a gift set that offers a variety of scents.

The unique thing about Spoken Flames' Trio Sets is that each candle gift set has a variety of scents with great range—from woody, citrus and floral in our F, Yes Collection, for example.

Your gift recipient would never get bored, and it increases your chances for satisfaction with a broad range of scents in their hands.

Because Spoken Flames candles are message-driven, our motivating candle statements (even without scent) mean that you'll still win big with this meaningful gifting choice!
7. Corporate gifting is an investment that yields dividends
Investing in your workforce and client relationships is the best investment.

Corporate gifts can spark joy, boost morale, demonstrate commitment, and extend gratitude. So the question isn't whether your business can afford corporate gifts—it's whether your business can afford not to.

Choose corporate gifting. You'll always win.
Best Candles for Corporate Gifting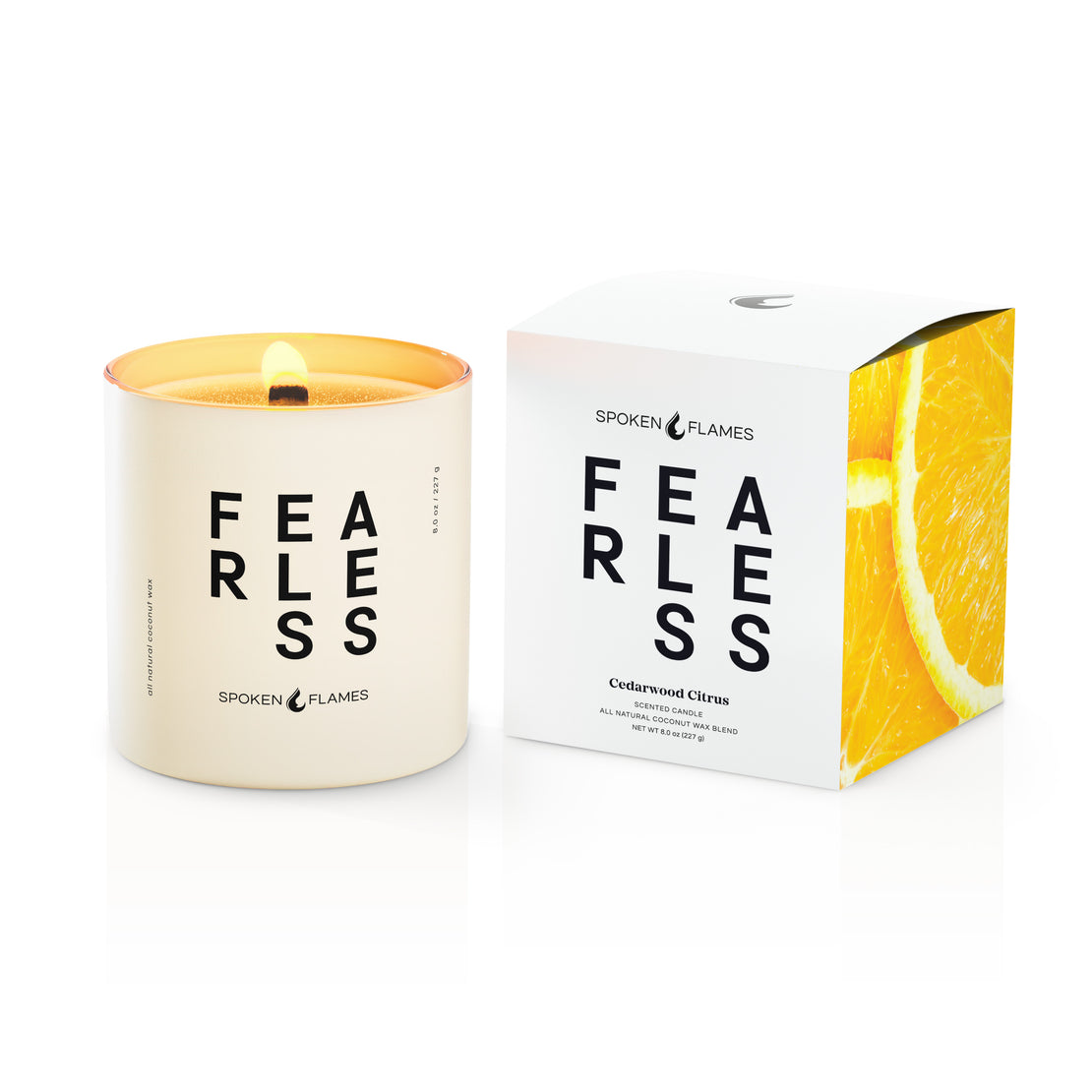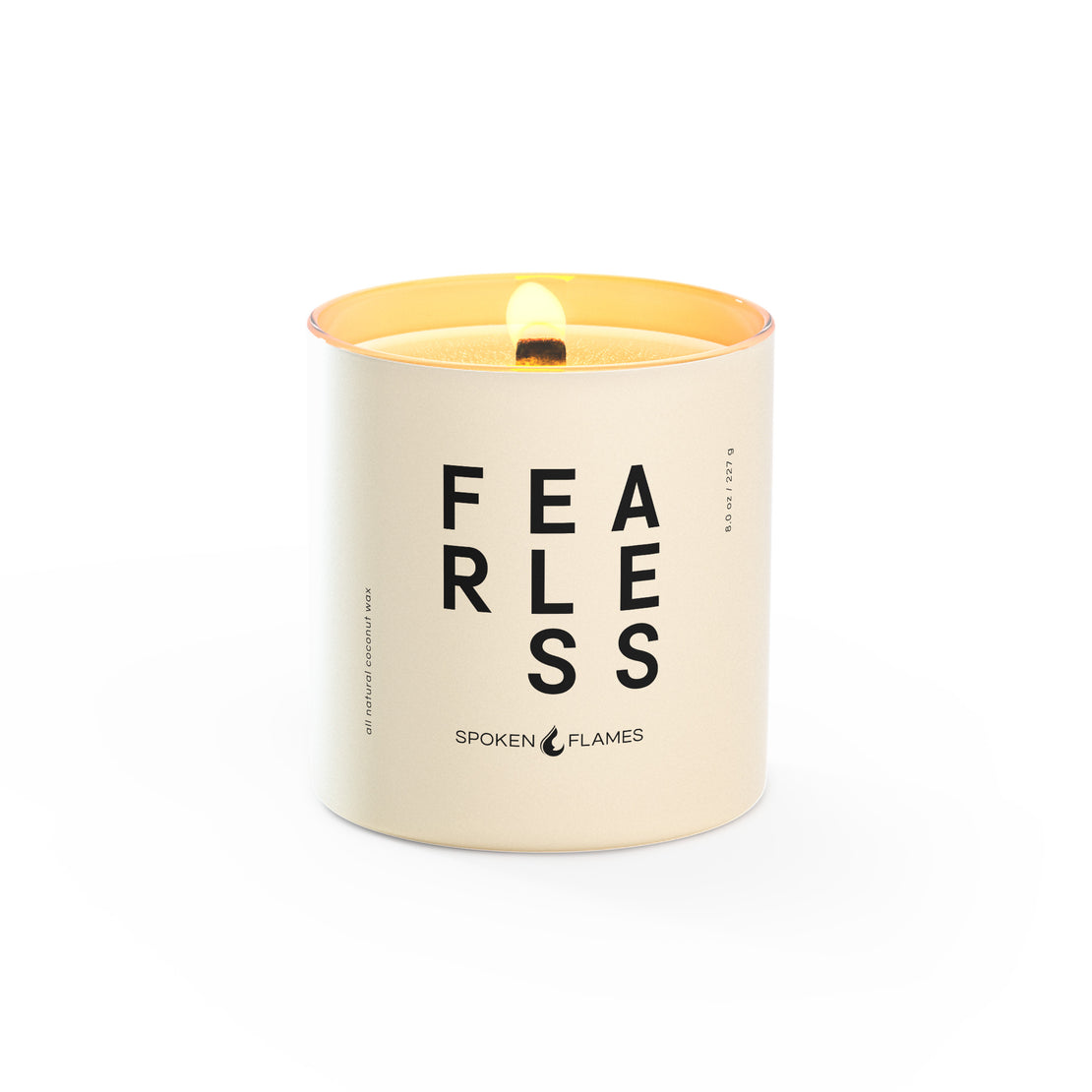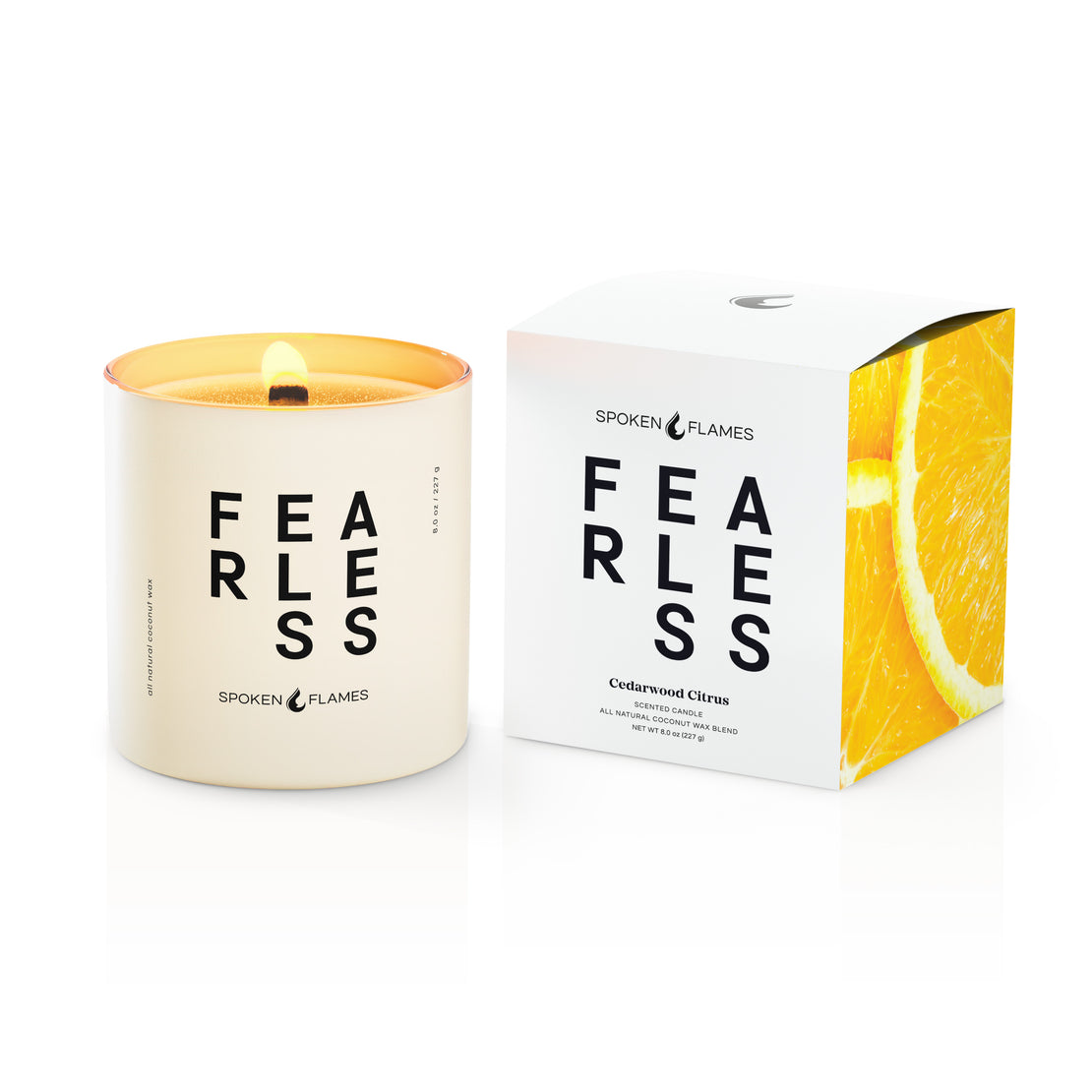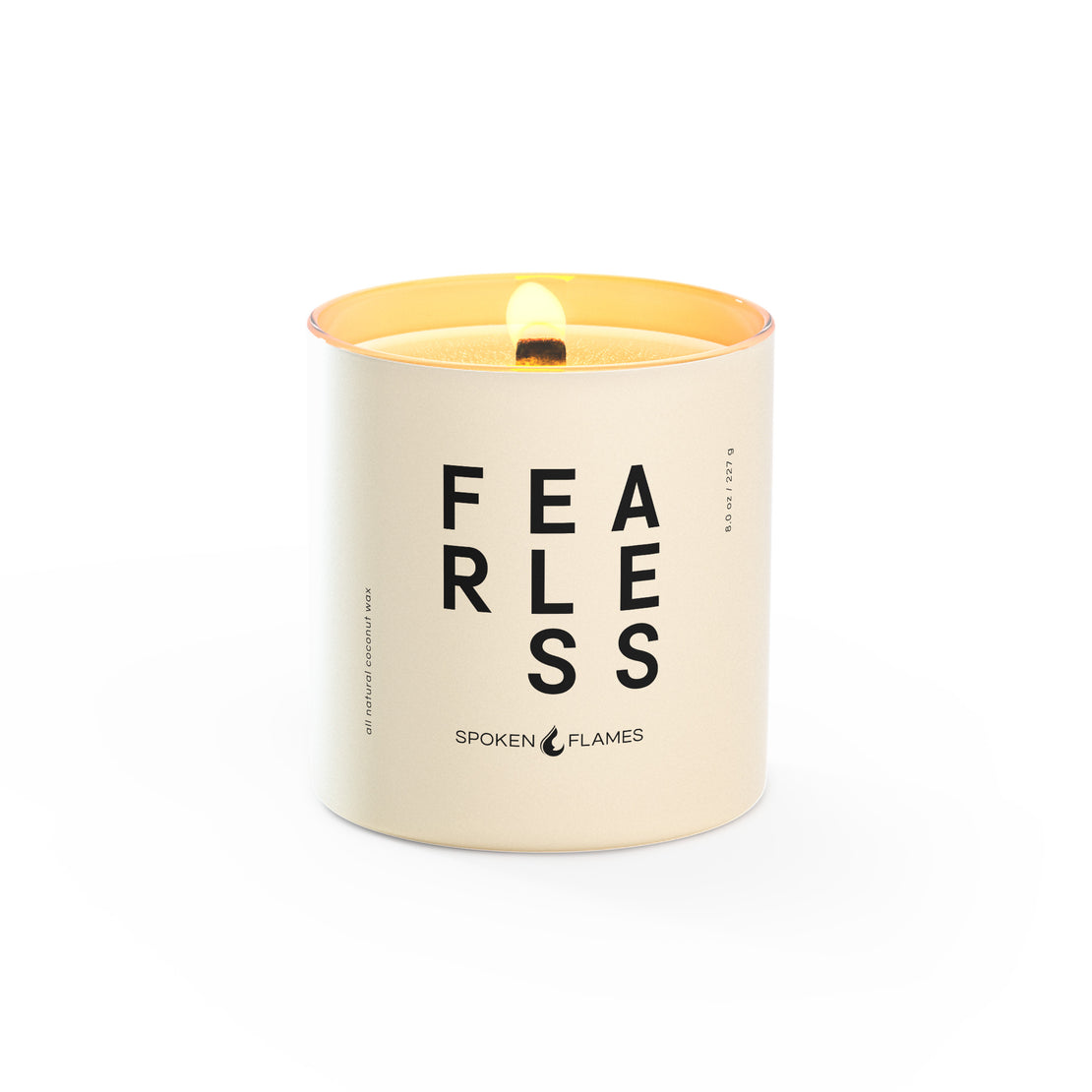 Orange, clove, cedarwood
Learn more
Rose petals, spice, patchouli
Learn more
Join 5,000+ Readers

If you found this article helpful, then join over 5,000 readers who receive valuable gifting, wellness, and lifestyle content. Plus, get $5 towards your first Spoken Flames candle.