LIGHT IT INTO EXISTENCE TM
Yellow Home Decor: 5 Ideas to Illuminate Your Space
If you want the mood in a room to be joyous, look no further than yellow home decor. Yellow is often associated with optimism, happiness, and energy in color psychology.

The color encourages various psychological and emotional responses that bring positivity and energy to any space. Here are 5 home decor ideas to illuminate your home and space with the color yellow.
RELATED: Scent your home with this sunshine-inspired yellow candle accent
PERSONAL OR CORPORATE GIFTING
Here's 5 reasons why a candle gift set makes the perfect gift:
5 Ideas for Using Yellow Home Decor
1. Accent Wall
Embrace yellow as a focal point. Consider painting an accent wall in a rich golden yellow to add depth and visual interest to a room. Pair it with neutral furnishings and decor to let the yellow shine and take center stage.
2. Furniture
Choose a bold yellow sofa or armchair as the focal point of your living room, surrounded by complementary colors that enhance its vibrancy.

And you don't have to break the bank to get a unique, yellow accent furniture piece. We actually use Fernish (not sponsored!) to rent accent pieces for our candle studio office in Brooklyn, NY.
3. Textiles
Incorporating yellow through textile accessories is the way to go if you prefer a more subtle approach. Think of seat cushions, throw blankets, area rugs, and curtains. These fine yellow accessories can brighten up any space.

Consider placing yellow textiles as a dynamic contrast against neutral backgrounds to infuse energy and personality into your home decor. Experiment with different patterns and shades of yellow to find the perfect balance that complements your style.
4. Lighting
Lighting has a significant impact on the ambiance of a room. Choose lighting fixtures with yellow accents or install yellow-hued light bulbs. Table lamps and even this yellow candle vessel can add a golden-yellow glow and a magic touch to your space.

Using a scented candle as a yellow lighting accent also allows you to scentcape an area in your home. Talk about a sensory bonus!
5. Florals
Bringing nature indoors is a delightful way to incorporate yellow into your home decor. Fresh flowers like sunflowers, tulips, or yellow roses arranged in vases can instantly enliven the mood in a room and provide a refreshing burst of color.

Add potted plants with yellow foliage or succulents with vibrant yellow accents to infuse your space with natural charm. These organic elements contribute to the aesthetic appeal and can promote a sense of calmness and well-being.
🎁 SHOP TRIO SETS 🎁
Styles and Trends for Yellow Home Decor
You can incorporate yellow into a wide range of interior design styles. It is often associated with mid-century modern and retro aesthetics, where bold shades of yellow are used for furniture pieces and accessories.

However, depending on the chosen shade and application, yellow can also be incorporated into contemporary, minimalist, bohemian, or Scandinavian design styles.
FAQs About Yellow Home Decor
What is the meaning of the color yellow?
Yellow home decor can transform your living spaces into vibrant havens that radiate positivity and joy. But it's important to note that color psychology can be subjective and varies depending on cultural, personal, and contextual factors.

Whether you opt for bold and dramatic yellow accents or prefer a more subtle and understated approach, the versatility of this color allows you to tailor it to your style and preferences.
Which room should I add yellow home decor?
Yellow is widely used in different areas of the home. Its inviting nature makes it great for communal spaces like living rooms and kitchens. At the same time, softer shades of yellow can create a calming ambiance in bedrooms and children's rooms.

Yellow can also stimulate mental activity, making it appropriate for areas where creativity or productivity is encouraged, like home offices or study spaces.
What colors complement yellow home decor?
Yellow is versatile and pairs well with various other colors. It can be combined with neutral tones like white, gray, or beige to create a clean and modern aesthetic. Or, yellow can be paired with contrasting colors like blue, purple, or green to create vibrant and dynamic color schemes.
Conclusion: Is Yellow Home Decor Right For Me?
Yellow home decor is right for you if you seek to transform your living spaces into a hub of happiness and joy. Be intentional about which room you incorporate your yellow home decor in, and you'll find that the color becomes functional, too.

Whether you opt for bold and dramatic yellow accents or prefer a more subtle and understated approach, the versatility of this color allows you to tailor it to your personal style and preferences. So, embrace the radiance of yellow, illuminate your space, and create a home that exudes warmth, happiness, and a charming ambiance.
6. Candles can help increase focus in a work from home environment
The rise in WFH and remote work means our workspaces are full of comforts—and distractions. But why would anyone light a candle at their work desk? To keep those distractions at bay. From chatty co-workers (albeit via Slack) to social media, candles are a thoughtful corporate gift that can help us focus and create space for us to do our best work.

Consider it a productivity hack. 💡

The presence of a candle flame can set a calming mood. Wooden wick candles in particular have a unique soft-crackling sound, which can serve as natural and relaxing ambient sound in one's space. Plus, select scent profiles, like citrus, woody or a floral scent of a scented candle can influence physiological responses that help keep the mind on track.

7. Candles can be an environmentally responsible gift choice
First, it's a candle, next it's their favorite whiskey glass. 🥃

Depending on the candle's vessel, most candle jars can be upcycled after the burn cycle of the candle. It can be used as storage, glassware and more, so you can feel good knowing that your gift will keep on giving! And your candle gift (once upcycled) can be a pleasant reminder, if not a conversation piece in their home, of your thoughtfulness.

A candle gift set solves my gifting needs—but wait! I don't know what candle scent they may like 😟

Bonus tip: How to pick a candle scent for a gift
So a candle gift set meets your needs, but you're not sure what scents they like 😟 Pro tip: consider an unscented candle or a gift set that offers a variety of scents.

The unique thing about Spoken Flames' Trio Sets is that each candle gift set has a variety of scents with great range—from woody, citrus and floral in our F, Yes Collection, for example.

Your gift recipient would never get bored, and it increases your chances for satisfaction with a broad range of scents in their hands.

Because Spoken Flames candles are message-driven, our motivating candle statements (even without scent) mean that you'll still win big with this meaningful gifting choice!
Candle Accents for Yellow Home Decor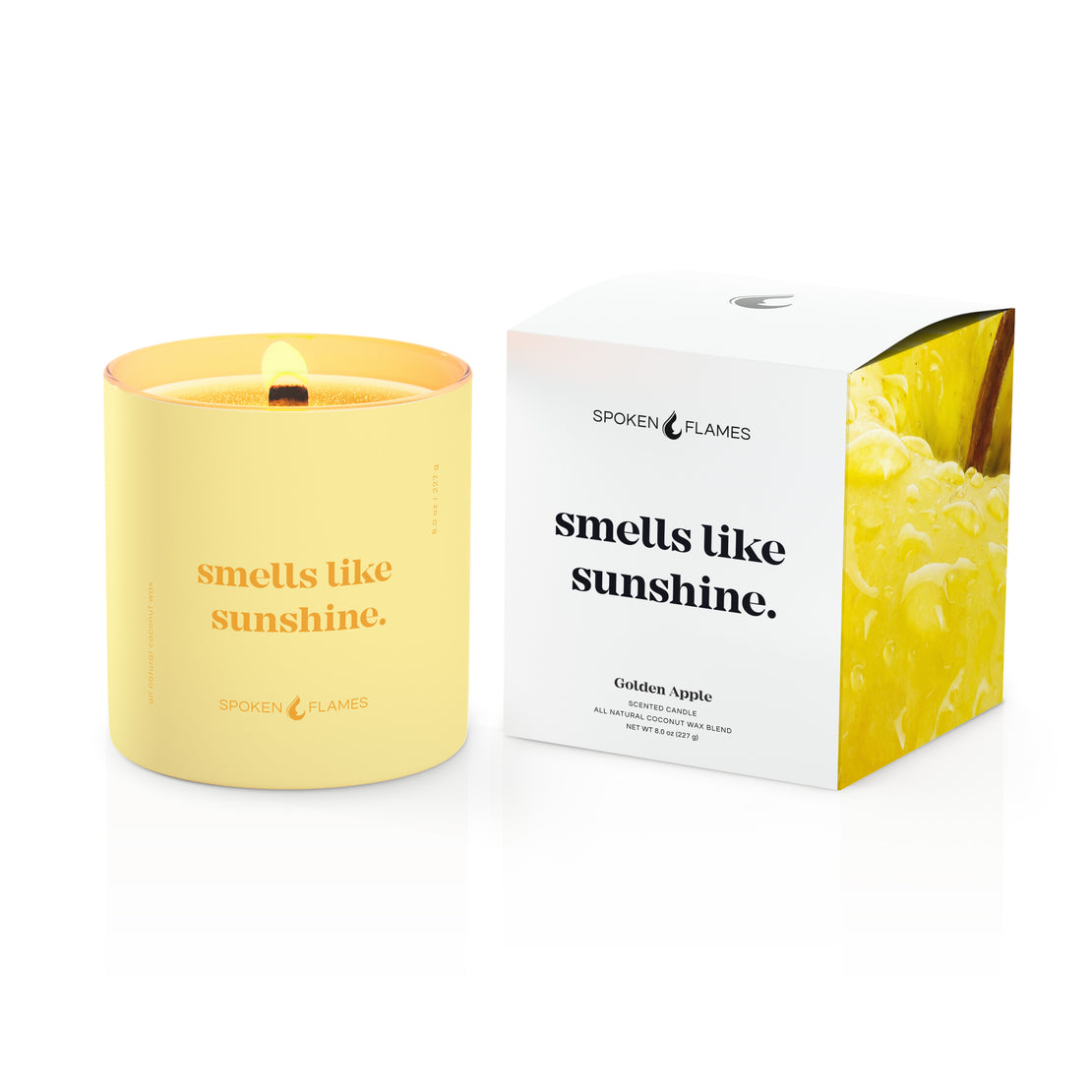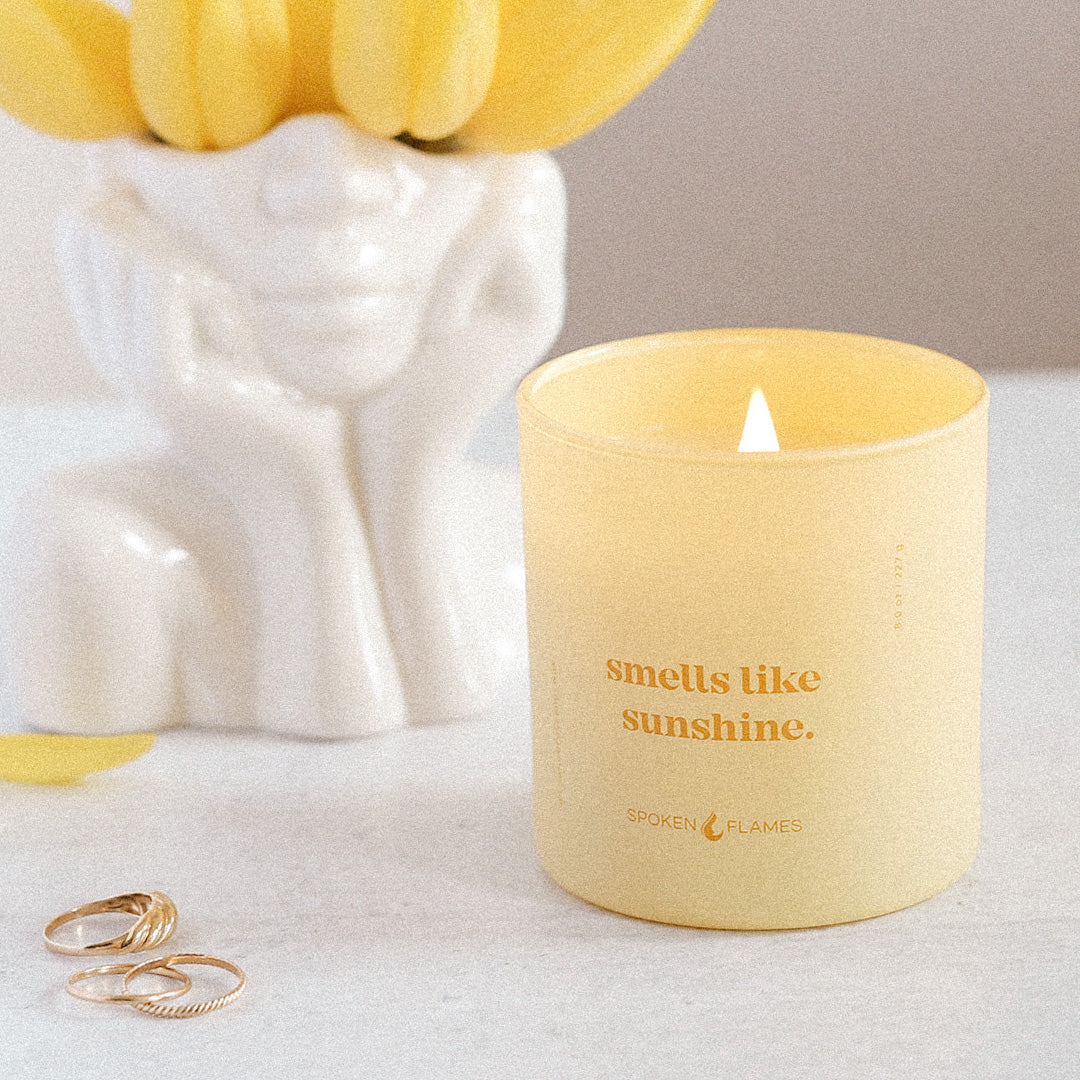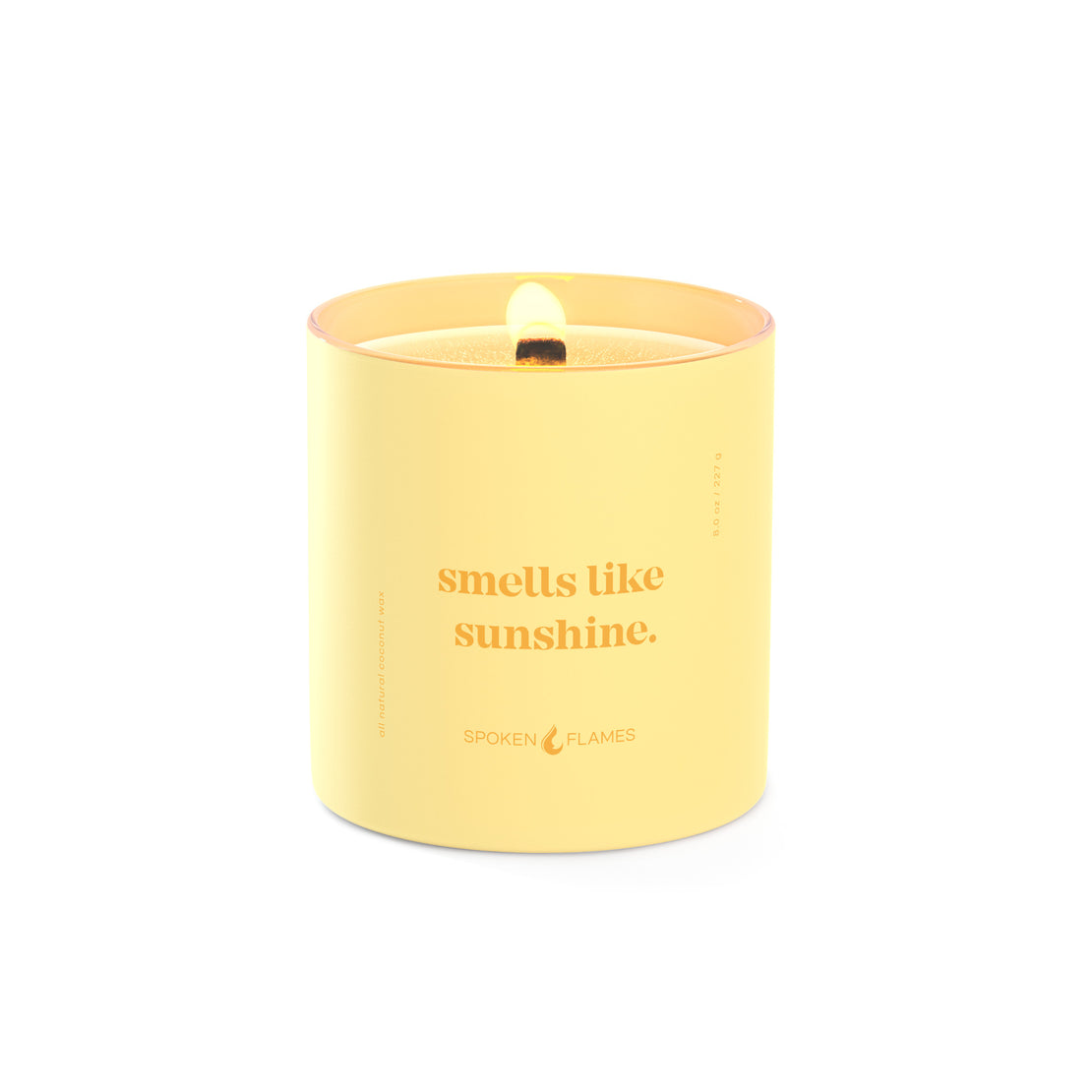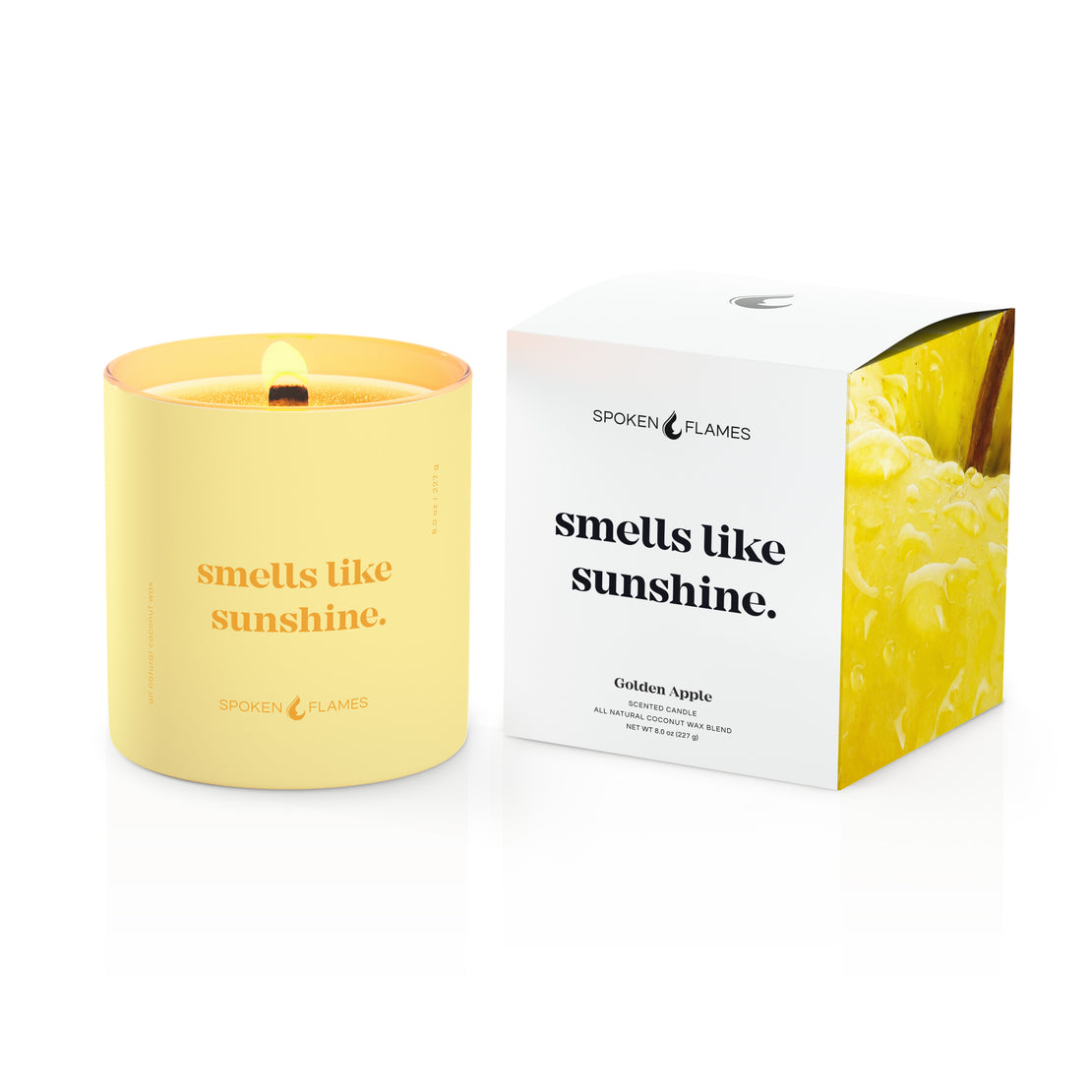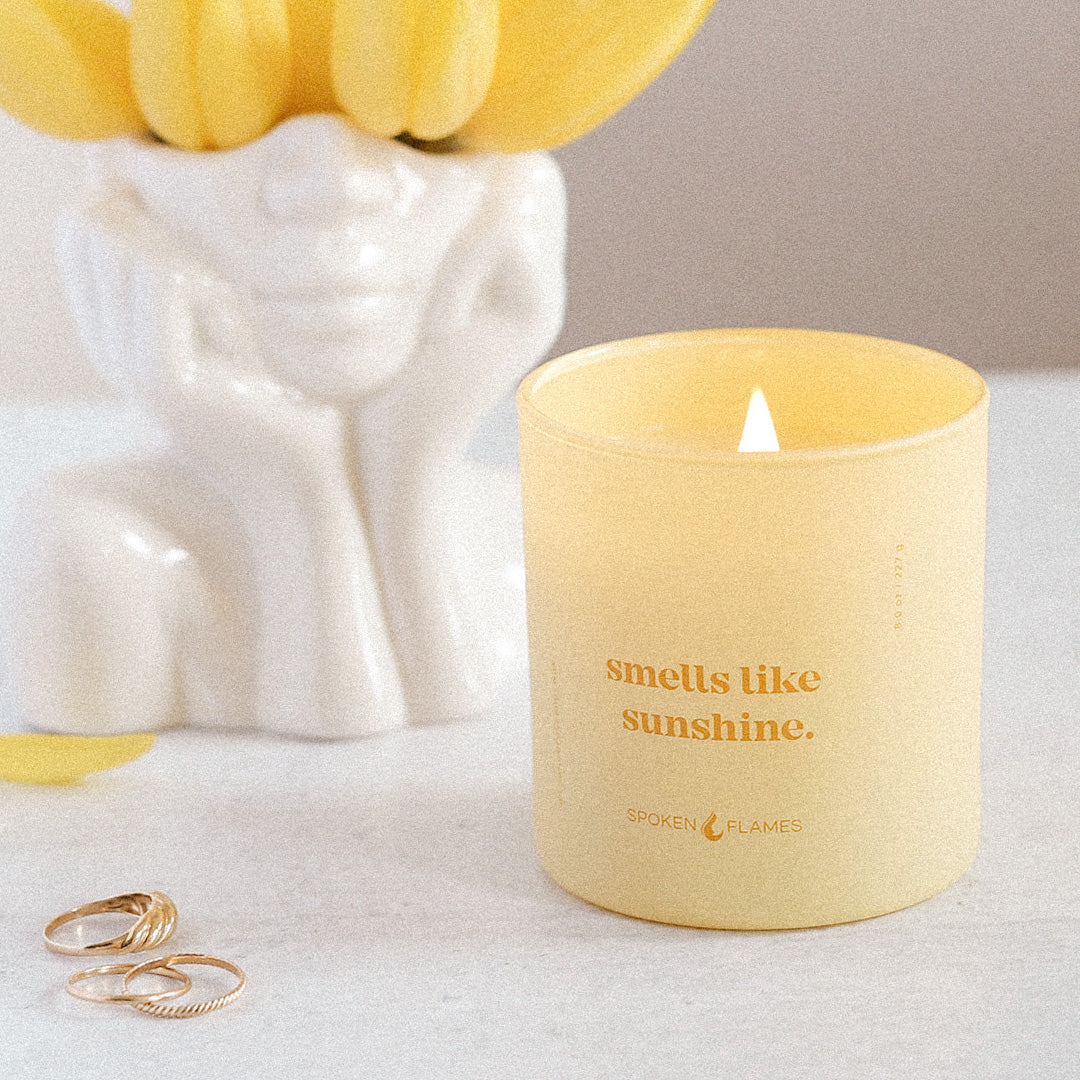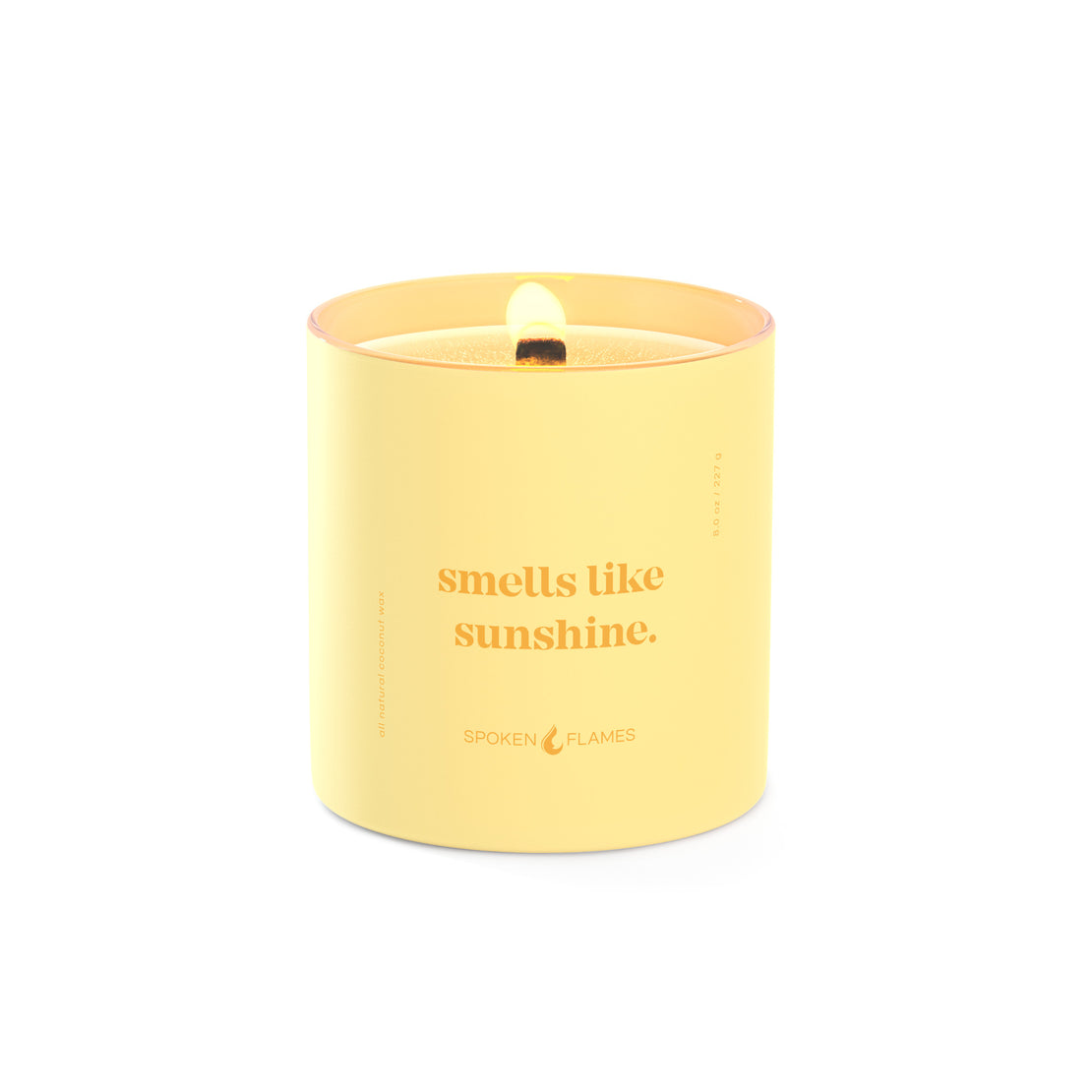 Golden apple, peach, wild berries
Learn more
Soft jasmine, rose, geranium
Learn more
Join over 6,500 readers!
If you found this helpful, then join over 6,500 readers who receive valuable wellness, motivation, and lifestyle content just like this. Plus, get $5 to use towards your first Spoken Flames candle.